Year 2
Welcome to Year Two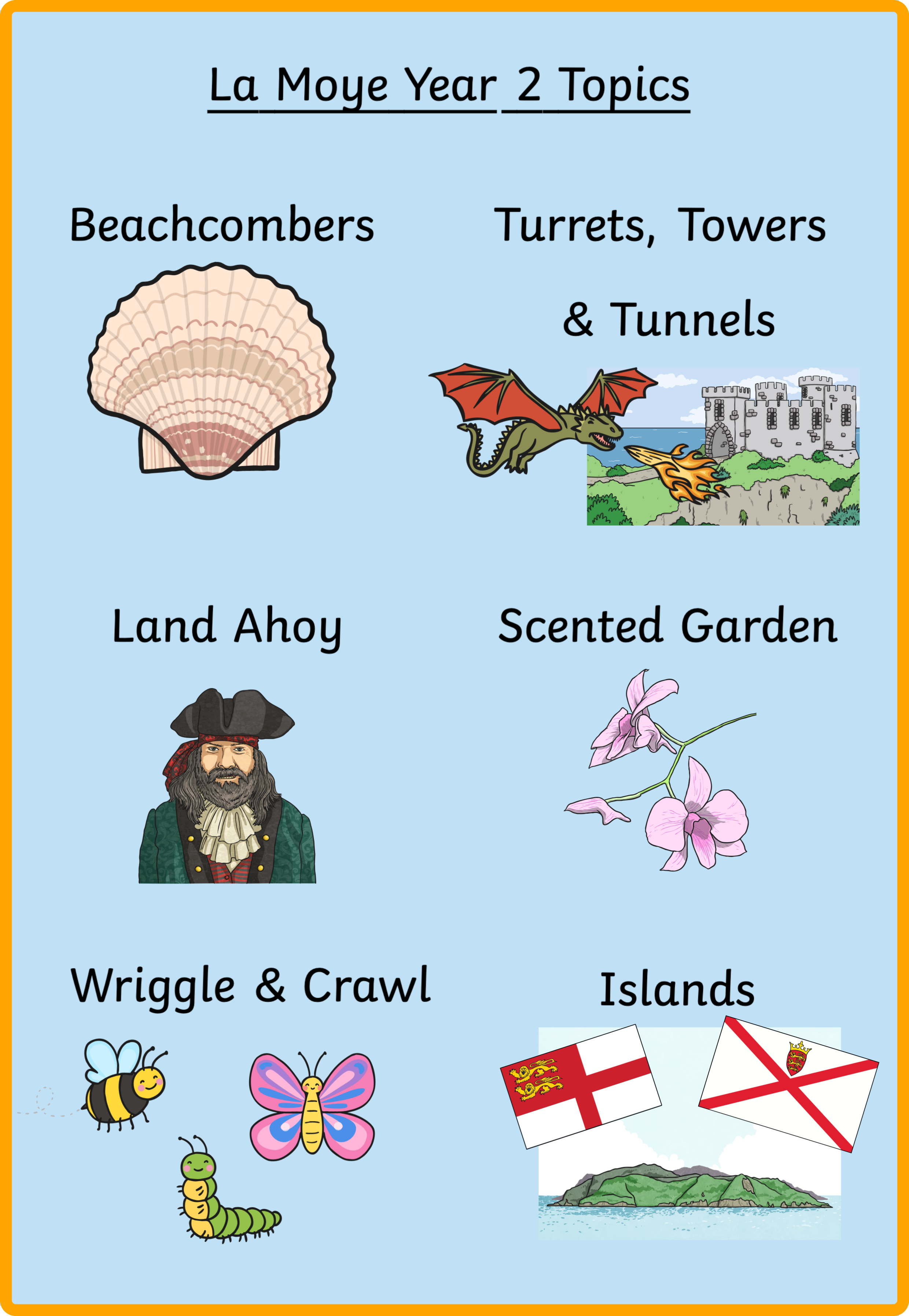 Year 2 is a fantastic year of development, where the children make huge progress in their reading and writing. We take care to ensure that our English lessons are centred around wonderful, rich, inspiring texts and in mathematics we ensure that the children are exposed to a wide variety of methods to ensure that they have a deep understanding of mathematical concepts and leave Year 2 as confident mathematicians.
Across the year, we cover a wide range of topics:
Beachcombers - our geography and science inspired topic encourages the children to explore their local area and extend their knowledge and understanding. We look at joining in art, inspired by the work of local artist, Naomi Renouf. The children learn about habitats and investigate the effect of plastic on the natural world.
Turrets, Towers and Tunnels - our history inspired topic focuses on castles. The children learn about maps and discuss the location of the two castles in Jersey. The children investigate towers and structures in Design Technology and in Science, look at the properties of different materials and their purposes.
Land Ahoy - In this pirate-themed topics, the children are inspired to continue their previous map work and create their own treasure maps. They will use directional language to describe where the treasure is!
The Scented Garden - In this topic, the children learn all about all types of plants and flowers. We hope to go on a visit to the Orchid Foundation where the children will learn about pollination and the inspiring orchids which are grown there. We teach the children about tone in art, and the children will sketch different plants and flowers using their new understanding of tone.
Wriggle and Crawl - Our learning centres around minibeasts and their life cycles, but we also learn about offspring in several species and the things that all living creatures need to survive. We look in further detail at habitats and their importance for minibeasts and how they use camouflage and mimicry to hide from predators. Alongside this we learn what humans need to have a healthy and balanced diet and design and create some healthy snacks.
Islands - We focus on our position in the world as a small island and compare and contrast the human and physical geography of Jersey with Sark. We learn about the Battle of Jersey and in art we make our own 3D sculptures inspired by the work of local artists.
Please ask your child's teacher if you have any questions. We always encourage you to read at home with your child and below are some resources which may be useful.
Websites to support reading and writing
Username: lamoye2a Password: lamoye2a
Username: lamoye2b Password: lamoye2b